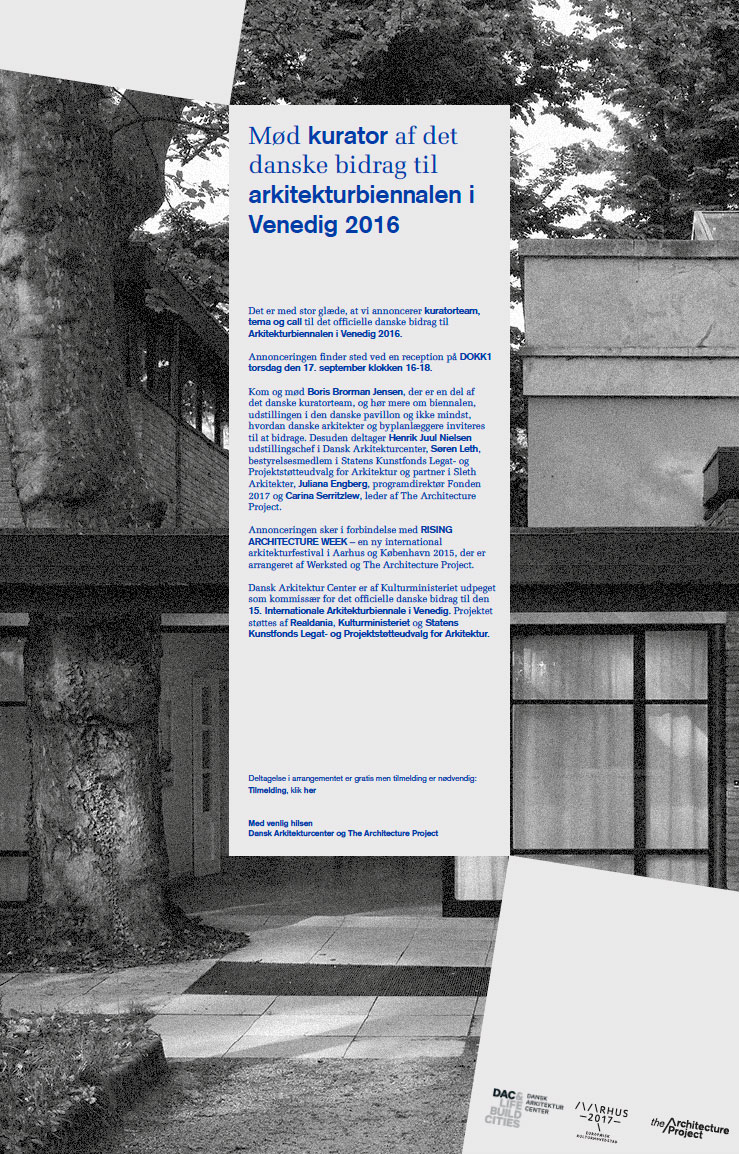 Boris Brorman Jensen and Kristoffer Lindhardt Weiss appointed as curators for the Venice Biennale 2016.
Meet the curator of the Danish contribution to the Venice architecture biennale 2016.
The announcement will take place at the talk and networks reception at Dokk1 on Thursday the 17th of September between 16-18pm.
Come and meet Boris Brorman Jensen, who is part of the Danish curator team, and hear more about the biennale, the exhibition in the Danish pavilion and not the least how Danish architects and urban planners are invited to take part in the biennale. Furthermore, the event will also be joined by Henrik Juul Nielsen, head of exhibitions at the Danish Architecture center DAC, Søren Leth, Board member of the State´s Art and Project support fund and partner in Sleth Architects, Juliana Engberg, program director of Fonden 2017 and Carina Serritzlew, leader of The Architecture Project TAP.
The announcement takes place in connection with RISNING AFCHITECTURE WEEK – a new international architecture festival in Aarhus and Copenhagen 2015.
The Cultural ministry has appointed the Danish Architecture Center as the commissioner for the official contribution for the 15th international architecture biennale in Venice. Realdania, The Cultural ministry and the State´s Art and Project support fund for architecture support the project. Together they have chosen Boris Brorman Jensen and Kristoffer Lindhardt Weiss to curate the official Danish contribution to the biennale.