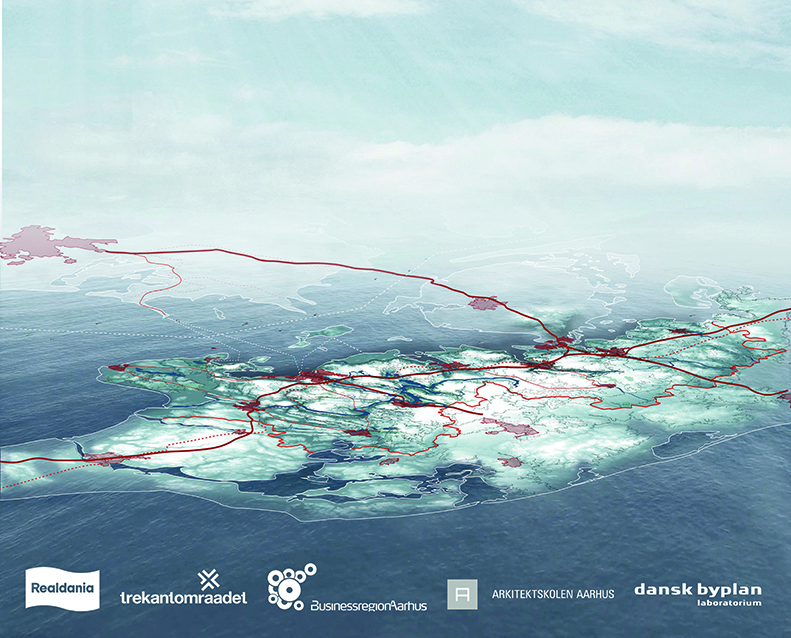 CONFERENCE ON A SUSTAINABLE FUTURE FOR EAST JUTLAND
A STRUCTURAL IMAGE OF EASTERN JUTLAND is the working title of a regional development project launched in the summer of 2018 by Business Region Aarhus, The Triangle Region of Denmark, Aarhus School of Architecture, the he Danish Town Planning Institute and Realdania. Geographically, the project pertains to the 19 municipalities in the Triangle Region of Denmark and Business Region Aarhus.
The work is spearheaded by Professor Tom Nielsen, the urban planning consultant Holger Bisgaard and the architect Boris Brorman Jensen in collaboration with Assistant Professor Martin Odgaard, Assistant Professor Katrina Wiberg, the architect Christine Kjølhede and the architectural student Aksel Jakob Brandt Jensen.
At the conference on 5 December, the working group presents the findings and potentials it has identified over the past year and a half. THREE FUTURE SCENARIOS for a sustainable urban region are presented at the conference. The background material in ATLAS OF EAST JUTLAND can form the basis of a wide range of other scenarios, but the three that are presented at the conference are selected because they contain particular potentials in relation to some of the general thematic frameworks that the working group has explored in depth as part of the project: sustainability, competitiveness, infrastructure, mobility and, not least, everyday life in East Jutland. In addition, we address the core issue of the project: an urban regional, political discussion about the desired development of the urban region of East Jutland and, not least, how and to what degree we should or need to pull together in the development of East Jutland.